Choosing A Partner To Your Medicare: A Comparison
Medicare provides only basic health insurance coverage. It does not cover 100% of all hospital and medical expenses you might have. It also has large co-payments and deductibles for hospitalizations, etc. that comes out-of-pocket before it kicks in. Medicare Part A and Part B also don't cover certain benefits, such as routine vision and dental, prescription drugs, or overseas emergency health coverage. Due to these reasons, most people on Medicare will procure additional supplementary health care to cover any additional expenses.
One option, called Medicare Advantage plans, provides an alternative way to get Original Medicare. It serves as a direct replacement but will still need you to continue to pay your monthly Medicare charges. You must be enrolled in both Medicare Parts A and B and live in the plan's service area.
The other option, Medicare Supplement (or Medigap) insurance plans work alongside your Original Medicare coverage. It supplements or fills in the "gaps" left by the original Medicare.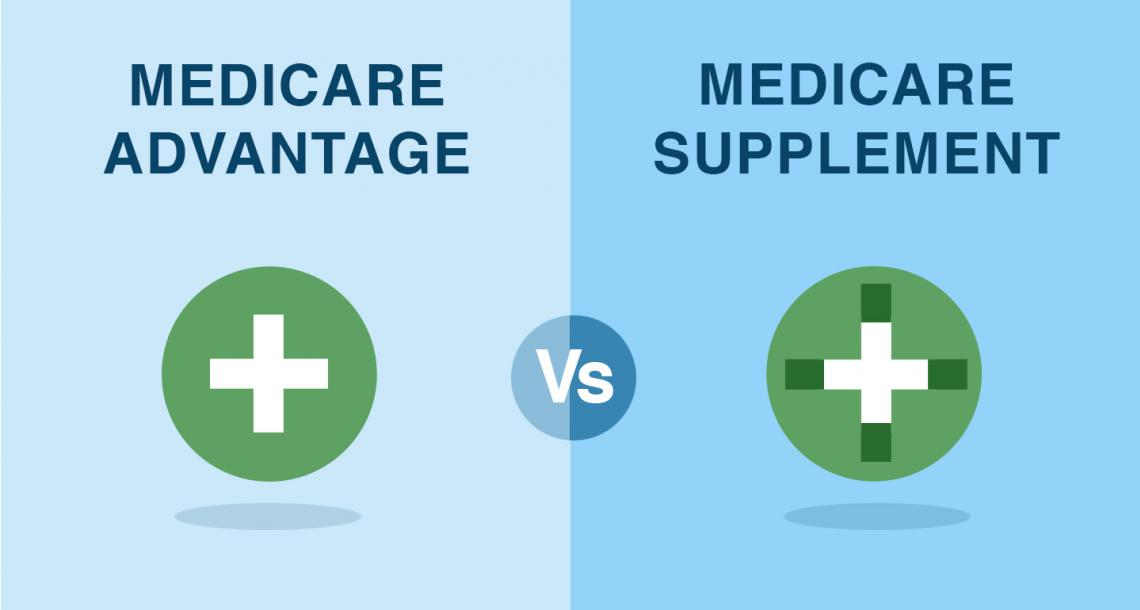 Both Medicare supplement insurance plans and Medicare Advantage plans are offered by private insurance companies approved by Medicare. With either choice, you continue to pay a monthly Part B premium to Medicare.
All these plans have significant differences when it comes to costs, benefits, and how they work. There's no "one size fits all" when it comes to Medicare. It's important to explore the available alternatives and understand these differences as you review your Medicare coverage options to get your money's worth and complement exactly to your needs.
ADVANTAGES
MEDICARE SUPPLEMENT
MEDICARE ADVANTAGE
PREMIUM
Depending on your plan,
age and location. Typically between $100 and $200 a month.
Depending on your plan
and location. Typically between $0 – $100 a month.
OUT-OF-POCKET COSTS
After your premium, low to none.
Deductibles and co-pays up to your yearly maximum.
Depending on the plan, a maximum between $3,000 – $6,700 annually.
CHOICE OF DOCTORS AND
HOSPITALS
Any that accept
Medicare.
Restricted to the plans
network. Out of network care is usually covered with an additional cost.
SPECIALISTS
Any that accept
Medicare.
Restricted to network
providers and requires a referral
PRESCRIPTION DRUG
COVERAGE
None.

You must purchase a separate Prescription Drug Plan
Prescription Drugs are
included in most plans.
ADDED BENEFITS LIKE
VISION AND DENTAL
None
Additional benefits are included
in some plans.
BENEFITS
MEDICARE SUPPLEMENT
MEDICARE ADVANTAGE
Predictable
out-of-pocket expenses.
Low upfront cost.
Freedom to choose your
own doctors and hospitals.
Additional benefits such as dental and vision.
Freedom to see a specialist without a referral.
Additional benefits such as dental and vision.
Security of the same
benefits each year.
Able to switch plans every year.
If you get other health insurance (eg.
at work), you may be able to put your policy on hold or suspend it.
Prescription drugs are usually
covered.
Guaranteed renewable.
Your plan can't be canceled.
DISADVANTAGES
MEDICARE SUPPLEMENT
MEDICARE ADVANTAGE
Higher upfront premium.
Unpredictable costs, co-pays and deductibles.
Must pass underwriting
if you are past your Open Enrollment Period.
Network restrictions for
doctors, hospitals, and specialists.
Benefits can change
every year.
An important thing to notice is that Medicare Supplement Plans, especially those with comprehensive coverage, has a fixed monthly premium for the year. This means you pay for the same amount within that year so you know how much you have to spend. Medicare Advantage, on the other hand, lets you pay co-pays, deductibles, and other unpredictable costs that a Medigap plan can cover so you actually don't know how much your monthly or even yearly expenses would be.
If you are a fairly healthy individual a Medicare Advantage Plan is good for you to lessen your expenses since it has lower monthly premiums than a Medigap coverage plan. When you're the person who usually and regularly return to a hospital due to an illness then a Medicare Supplement Plan is better since no matter how many times you go back to the hospital in a month you still have to pay the same amount of monthly premiums.
As you compare Medigap and Medicare Advantage plans, please do take into account the current healthcare legislation involving funding cuts which are going to greatly impact the quality of coverage and cost of Medicare Advantage Plans since Medicare pays them. It is important to thoroughly understand the benefits of the insurance policy you purchase in order to get your dollars worth. If you want additional information on the differences between Medigap and Medicare Advantage Plans, you can contact one of our Expert Advisors at (855) 230-0801 for free.