Medicare Part D (Prescription Drug) Plans & Quotes
Medicare Part D is another part of the Medicare Program and involves Prescription Drugs coverage. This specific part of Medicare is provided by Medicare-approved private companies. It is optional to enroll in Medicare Part D prescription drug coverage albeit if you decided to delay your enrollment you would face penalties that you need to pay, like with other Medicare parts, on top of your monthly premiums, though there are exceptions to these penalties depending on your situation. Thus it is better to enroll in Medicare Part D when you are first eligible. You don't automatically enroll on this part of Medicare.
The private companies that are authorized to offer Part D follow certain standards and guidelines set forth by Medicare itself. You must first have Medicare in order to get prescription drug coverage. There are different plans under Medicare Part D and they often vary in coverage, formulary, and prices but are always within the standards set by Medicare. Each plan has different tiers of which in turn has different formularies. A formulary is the set of prescription drugs that are covered by your plan. The set of formularies in each tier may change anytime so be sure to always check with your provider. Your provider will send you a notice if there are changes in your formulary.
Eligibility and Enrollment
In order to be eligible for Medicare Part D (Prescription Drug) you must have Original Medicare Part A and/or Part B or a Medicare Advantage Plan. You must also be living within the service area of the Medicare Part D (Prescription Drug) coverage provider of your choice.
You can enroll for Part D coverage when you first get Medicare Parts A and/or B during the Initial Enrollment Period. Likewise, there are special periods when you can make changes to your current plan during the Open Enrollment Period for Medicare Advantage and Medicare prescription drug coverage on October 15–December 7 and Medicare Advantage Disenrollment Period during January 1–February 14.
Medicare Part D prescription drug coverage can be availed stand-alone if you have Original Medicare or as a part of a plan that includes drug coverage through the Medicare Advantage Prescription Drug Plan. In joining a Medicare drug plan, you need to provide your Medicare Number and date when you began your Part A and/or Part B coverage. You can find this information on your Medicare card.
Late Enrollment and Penalties
Basic Medicare doesn't cover prescription drugs unless you enroll in Medicare Part D which is a stand-alone prescription drug plan that you have to pay another premium for. Furthermore, if you plan on getting Medicare Part D, be sure to get it as soon as you're eligible and in the Initial Enrollment Period.
The cost of the late enrollment penalty depends on how long you went without Part D or creditable prescription drug coverage. If you have other prescription drug coverage plan provider like from your employer or one you got privately be sure to inform Medicare about it. Creditable prescription drug coverage (also called "creditable coverage") is coverage that's expected to pay, on average, at least as much as Medicare's standard prescription drug coverage. They are considered "creditable" only when they meet or exceed the Centers for Medicare and Medicaid Services (CMS) Standard Medicare Part D Prescription Drug plan.
Medicare calculates the penalty by multiplying 1% of the "national base beneficiary premium" ($35.02 in 2018; $33.19 in 2019) times the number of full, uncovered months you didn't have Part D or creditable coverage. The monthly premium is rounded to the nearest $.10 and added to your monthly Part D premium. This late enrollment penalty amount changes annually.
Failure to get Part D due to postponement and trying to get it later will give you a late enrollment penalty which you will have to pay on top of your Part D premium for a lifetime as long as you're enrolled in Medicare Part D even if you switch to another Medicare drug plan.
The Donut Hole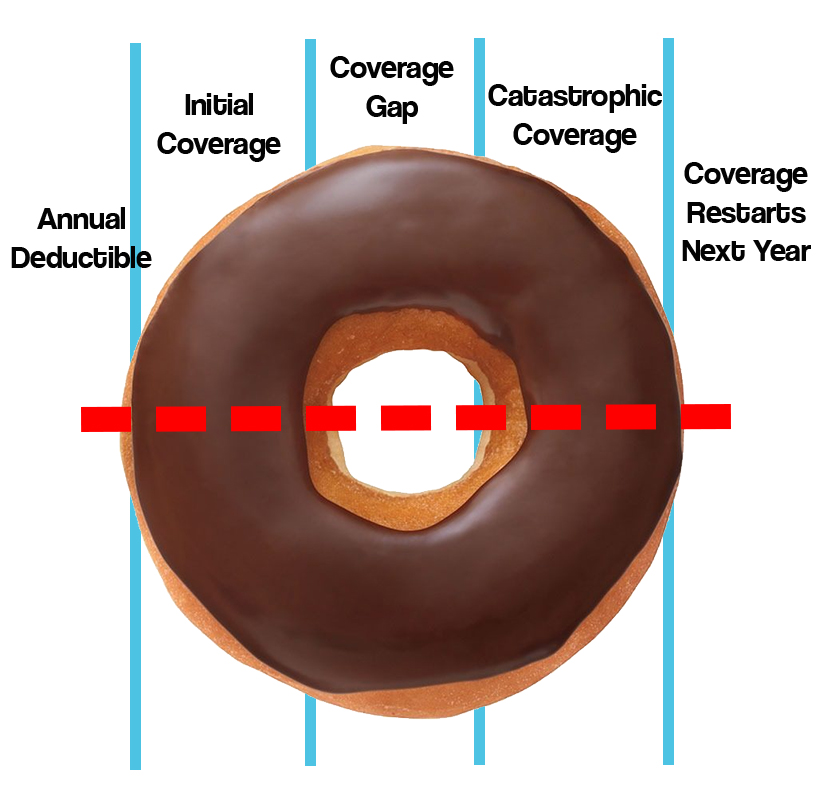 Medicare prescription drug coverage (Part D) has a coverage gap known as the "donut hole". There are four coverage phases under Medicare Part D:
Deductible phase
Initial coverage phase
Coverage gap, also known as the "donut hole"
Catastrophic coverage phase
Under the first phase which is the deductible phase, you have to shoulder the full amount of your medication costs until you reach the yearly deductible of your chosen plan if it has one. After that, Medicare Part D will cover its share of what remains of your drug expenses.
The initial coverage phase starts after you reach your deductible, if your plan doesn't have one, your coverage will begin here rather than the deductible phase. This is where you will pay for your cost share for covered medications which will depend on the percentage of your coinsurance. What you'll pay here will come out of your pocket. This phase has a limit depending on your plan and may change annually.
When you and your plan reaches $4,020 (the limit as of 2020) in combination for what you've spent in the year you are now inside the coverage gap or also known as the "donut hole". Here you'll have to pay about 35% of the plan's costs with brand-name drug prescription and 44% with generic drugs all out of your pocket.
Once your out-of-pocket cost has reached $6350 you will be in the catastrophic coverage phase. For the remaining part of the year, you only have to pay a small coinsurance or co-payment for covered prescription drugs.
Bear in mind that all these figures change annually and depend on the Part D Plan that you have. You need to be aware of these changes in order to not be caught unaware of all the money you have to spend yourself aside from your premiums.
Medicare Part D enrollees will pay 25% of the cost of all their prescription drugs from the time they enter the gap until they reach catastrophic coverage.